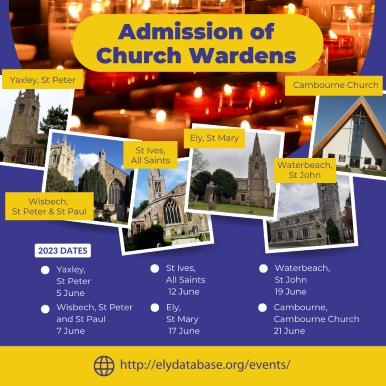 Churchwardens are the Bishop's lay officers in a parish, a volunteer role which is vital to the health and wellbeing of our church communities. The office of churchwarden is an annual office, and it is a legal requirement for all churchwardens to be admitted every year by the Diocesan Registrar or Archdeacon.
Our upcoming events for admission of churchwardens start on Monday 5 June, taking place at different churches across the Diocese:
Monday 5 June at 7:30pm : Yaxley, St Peter
Wednesday 7 June at 7pm : Wisbech, St Peter and St Paul
Monday 12 June at 7.30pm : St Ives, All Saints
Saturday 17 June at 10am : Ely, St Mary
Monday 19 June at 7.30pm : Waterbeach, St John the Evangelist
Wednesday 21 June at 7.30pm : Cambourne, Cambourne Church
Together with the parish priest, the church wardens are generally responsible for the day-to-day functioning of a parish. Find out more about being a churchwarden.