The Right Reverend Stephen Conway was confirmed as the 69th Bishop of Ely on 6th December, 2010. He was installed in Ely Cathedral on Saturday, 5th March, 2011.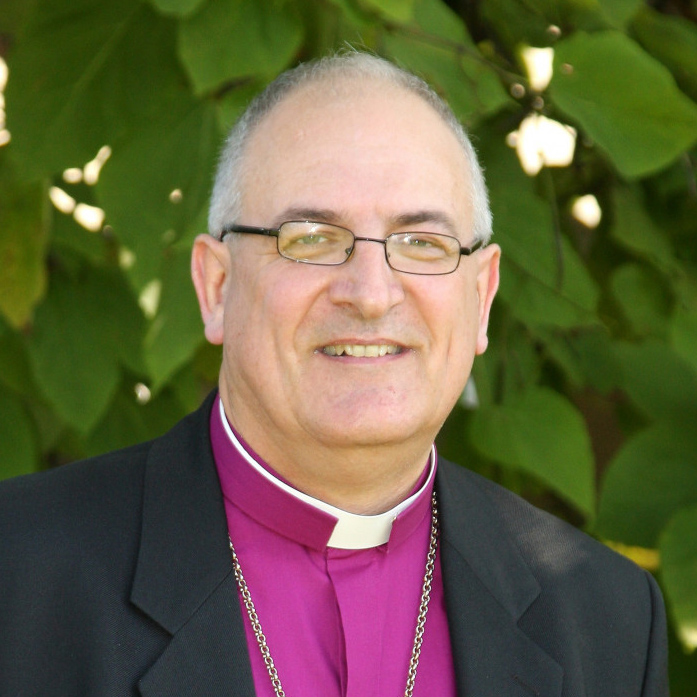 He was selected to train for the ministry while he was an undergraduate at Oxford, where he read Modern History, but first trained as a teacher and taught History and English at an Anglican public school, Glenalmond College in Scotland.
He first became acquainted with East Anglia when he trained for the priesthood at Westcott House, Cambridge, and read Theology through Selwyn College. He did a placement on an acute admissions ward at Fulbourn Hospital - an experience that inspired his passionate interest in mental health.
Bishop Stephen was ordained deacon in 1986 and priest the following year in Durham Cathedral. He spent the next twenty years of ministry in the Diocese of Durham - an urban priority area, town centre and suburban settings.
While serving in the North East, he was appointed as Diocesan Director of Ordinands and later as the Bishop of Durham's Senior Chaplain and Diocesan Communications Officer. In 2002 he became Archdeacon of Durham and Canon Treasurer of the Cathedral. He served in the Diocese of Salisbury as Bishop of Ramsbury, following his consecration on the feast of St Alban, June 22nd 2006. Not having ministered in a largely rural setting before, Bishop Stephen immersed himself in the needs of rural communities and the rural economy.
Since he was a curate, Bishop Stephen has been mentor and friend to clergy and lay people helping them to deepen their personal spirituality and strongly believes that prayer and worship are at the heart of everything.
His understanding of church doctrine and liturgical practice were formed principally within the Anglican catholic tradition, but this has been enriched by the positive experience of other traditions throughout his ministry, such as the charismatic movement. As a child, he attended a Methodist Sunday School. He is firmly committed to being a bishop for the whole Church, regardless of tradition.
He takes a keen interest in community development, seeking close links with other community leaders. He was a key member of the Wiltshire Assembly while he was Bishop of Ramsbury.
On 7 July 2014, Bishop Stephen was introduced to the House of Lords and took his seat as one of the 26 Lords Spiritual. He speaks on issues affecting communities within the Diocese and on mental health and disability.
He chairs the Council of the National Society Council which supports the church's work in schools and further and higher education.
Bishop Stephen has chaired the Development and Appointments Group (DAG) of the House of Bishops, serving the continuing training and development of existing senior clergy and the nurture of future senior leaders. He was a member of the Ministry Council which oversees the work of the Church of England Ministry Division.
The Bishop of Ely, by ancient tradition, is the Visitor of three Cambridge Colleges: Jesus, Peterhouse and St John's. He takes a keen interest in both the University of Cambridge and Anglia Ruskin University.
Bishop Stephen has played a major role in building up links with Churches overseas and has travelled to South Sudan and Latvia on behalf of the Diocese of Salisbury and Vellore in South India as Bishop of Ely. He has visited Kigali in Rwanda to build the new inter-diocesan link and in March 2015 he visited the Nordkirche, the Church of North Germany, which Bishop Stephen first got to know through a Durham link. The Diocese of Ely has a long-established link with Nordkirche which Bishop Stephen is keen to sustain.
Bishop Stephen chaired the board of a mental health charity for some years. He is now the Anglican bishop accompanying the L'Arche Community in the UK, a mixed community of people with learning difficulties and those who care for them. He is one of the church leaders for the L'Arche Community internationally. He is also a patron of the Arthur Rank Hospice and of Romsey Mill in Cambridge, of Arts and Minds, the National Youth Arts Trust and of Kairos UK.
He is also a Vice President of Affirming Catholicism, a member of the Society of Catholic Priests and the Bishop Visitor of the Company of Servers. Previously Bishop Stephen has represented the Church of England on the Faith and Order Commission of the World Council of Churches.
Bishop Stephen grew up in multi-cultural South London, where some of his family still live. He attended a Church of England grammar school next to the Oval cricket ground, with free views of test matches. Bishop Stephen is single and part of a wider loving family.
Bishop Stephen is a keen walker and enjoys watching rugby and cricket, as well as going to the cinema. He is interested in the connection between faith and film. He reads theology, history and biography at any time, and thrillers at the end of the day. He likes to travel and enjoys travel literature. He takes much pleasure in offering and receiving hospitality.
Publications
Theological Principles for Change for Bishops - Bishop Stephen - 2021 Final - click here
Presidential Addresses to Synod can be viewed on the Synod page here.

(ed) Living the Eucharist, 2001

(contrib.) This is Our Calling, 2004

(contrib.) Vicar's Guide, 2005

"Generous Episcopacy" in Julie Gittoes, Brutus Green & James Head (eds) Generous Ecclesiology: Church, World and the Kingdom of God London: SCM, 2013

Ian Adams et al Reflections for Daily Prayer: Advent 2013 - Eve of Advent 2014 London: Church House Publishing 2013
Contacting the Bishop of Ely and his Office