Welcome to the Church Buildings and Pastoral Department of the Diocese of Ely
What we do
We are here to help support, advise and guide parishes on all matters relating to the care, maintenance, repair and development of their churches and other parochial buildings.
Together with the Diocesan Advisory Committee for the Care of Churches (DAC), we strive to maintain a proper balance between the requirements of caring for the historical and archaeological significance of these precious buildings, and recognising that churches are living places of worship and mission with a need to adapt and become fit for purpose in the 21st century.
We are committed to enabling parishes realise the potential of their buildings so that they can be reimagined in line with the Diocesan strategy for growth, Ely 2025.
The Diocese of Ely is blessed with 334 churches, each of which represents the presence of the Church of England in every community in the country and is a testament to the lives of the many thousands of people who have worshiped, celebrated and sought solace and comfort there.
The care and maintenance of these extraordinary buildings - 43% of which are Grade I listed and 40% Grade II*[1] in our Diocese - is a challenge faced by clergy and congregations alike.
A Quick Guide to Looking after Church Buildings
Looking after church buildings is a team effort and often involves far more than people expect. To help, we have produced an overview of the key areas, with links to take you to more detailed guidance when needed. It is not a list of things that need to be dealt with immediately, nor is it a list of things for just one person to be responsible for.
Faculty Jurisdiction (Amendment) Rules 2019
The management of all consecrated buildings and burial grounds falls outside the secular listed building regime by what is termed as the 'ecclesiastical exemption'.
Instead, they are subject to the Faculty Jurisdiction (Amendment) Rules 2019, which means that permission - either a Faculty, an Archdeacon's Authorisation under 'List B', or an Archdeacon's Licence - will be required for almost any change or work to be done to or affecting a church building, its contents or churchyard.
This system is in place to ensure that churches are properly cared for and that whatever work is undertaken is properly considered and undertaken in the most appropriate way.
The kind of permission required will depend on the kind of work to be done. In all cases, please contact the Church Buildings Department at an early stage to discuss your case and proposals so that we can guide and support you through the process, and work towards a positive outcome.
All faculty applications are now being made through the Online Faculty System - and the Church Buildings Department are happy to help should you need assistance navigating the process. We can also provide you with support and guidance as to applying for grants and funding for your works.
Further information about the Church Buildings Department, the DAC, the work that we do and the help we can offer can be found within this section of the website.
Building Volunteers Survey 2021
During the summer of 2021, the Historic Church Buildings Support Officer conducted a survey of church building volunteers for the Diocese of Ely. Participants included Churchwardens, Fabric Officers, PCC members and other volunteers, as well as members of the clergy involved in the care and management of church buildings.
The key aims of the survey were to:
Gather baseline data on volunteers involved in the care of church buildings including role types, age, length of service etc…
Capture the first-hand experience of volunteers
Explore the nature and 'health' of local volunteering at churches within the Diocese of Ely
Carry out a skills audit
Identify support and training needs and preferences
Highlight concerns and aspirations for the future
Over a third of parishes took part in the online survey, supported by follow-up 30 interviews.
For the full Building Volunteers Survey Report please click here
Church Heritage Newsletter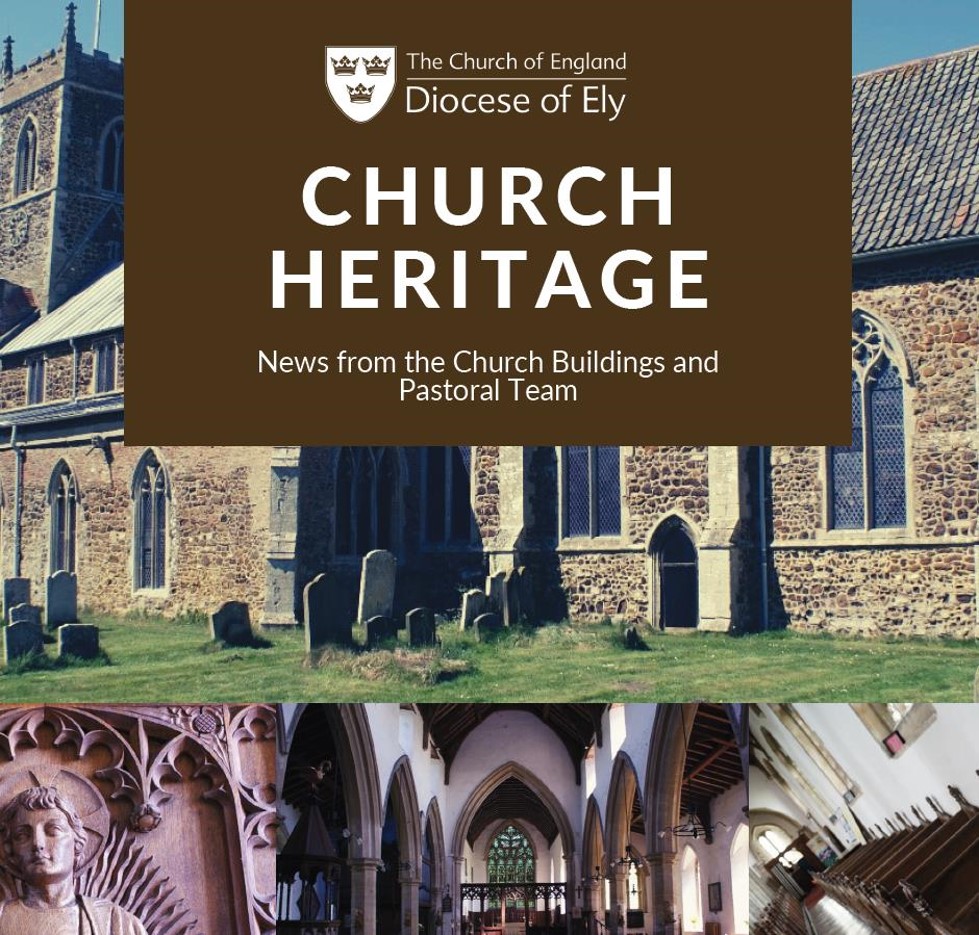 It has has been over 3 years since we launched our Church Heritage Newsletter in March 2020. The Church Heritage Newsletter is a quarterly issue, containing an overview of maintenance tasks, grant scheme deadlines, and news updates for the season ahead.
Latest Edition
Past Editions