Children from the Elm Road Primary School, Wisbech, are now rehearsing with one of the students of St Catharine's College Cambridge in preparation for a ground breaking collaboration in the Parish Church of St Peter and St Paul Wisbech on Ash Wednesday - 26th February 2020.
This venture will see local schoolchildren singing traditional church music alongside world class choristers in at an important Christian festival in the massive town-centre church.
The Diocese of Ely and St Catharine's College Cambridge are working together to offer a unique opportunity for Fenland Children from Elm Road Primary School (Elliott Foundation) to experience the thrill of singing with experienced and accomplished chapel choristers under the direction of Dr Edward Wickham (Director of Music) and his student Caius Lee (Music Undergraduate).
At the annual Ash Wednesday service at 5.30pm on 26th February, the children will be joined in the choir stalls by members of the St Catharine's College Choir offering traditional anthems such as 'Drop, drop, slow tears' and an African-American spiritual 'Go Down Moses'. They will also be singing verses specially written for them within an adaptation of the famously challenging 'Miserere' by Gregorio Allegri.
This venture is the first fruit of a plan by the Diocese of Ely to reintroduce traditional Anglican choral music to a new generation of singers.
Canon Matthew Bradbury of St Peter and St Paul's church writes: 'What a fantastic opportunity for local children to hear and perform with some of the best adult choristers in Cambridgeshire. So far I have attended two rehearsals and have been amazed at the progress these very enthusiastic but relatively untrained pupils have made'.
School Principal, Mr Graham Lockwood writes: 'Elm Road Primary School, as a member of the Elliot Foundation, is part of an initiative to encourage the arts in school. To be offered the chance to work with such talented choristers and study traditional church music was an opportunity that was just too good to miss. Observing Dr Wickham and Caius working with our newly formed choir has been a revelation. We have always had close links with St Peter and St Pauls church and this project continues to reinforce these. Everyone is very excited and looking forward to the first joint church service on Ash Wednesday'.
With thanks to the school for their permission to include below some photographs.For more information about the project and the forthcoming church service please contact Canon Matthew Bradbury at matthewbrad@hotmail.co.uk
At the second rehearsal the choir are being taught over a Skype link with Caius Lee in Cambridge and the children in Wisbech. The children seem to be coping well with music manuscript for the first time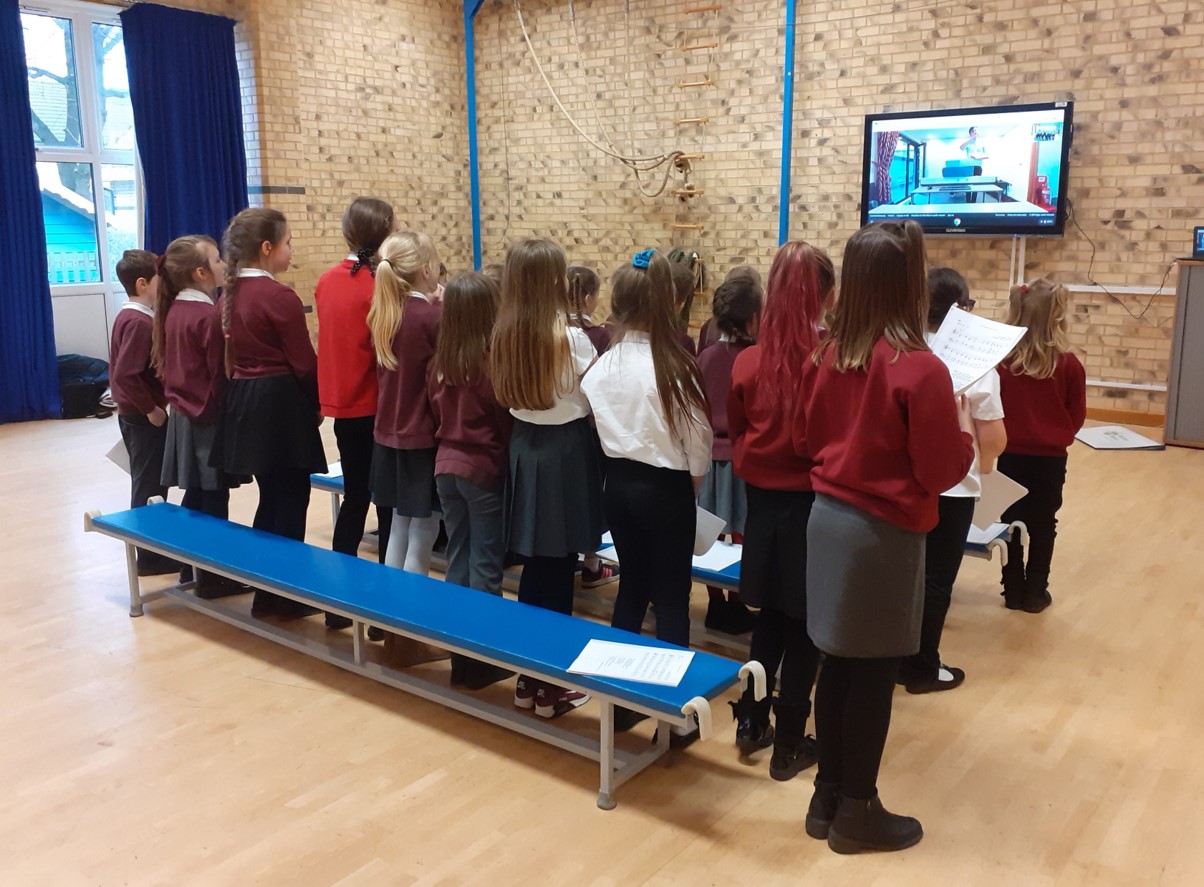 Caius has the children's full attention as he takes them through some preparatory exercises.